3D Scanning for Digital Fashion with Balenciaga x FarFetch
by
3D Scanning for Digital Fashion with Balenciaga x FarFetch with Jon Emmony
To celebrate the newly launched AW 2021 collection, Farfetch joined forces with Balenciaga to showcase its new-season offering through an innovative digital concept entitled 'Future Fantasy'. The partnership saw artist Jon Emmony bring the collection to life via his sensory, gaming-inspired worlds in a series of videos and images, seen on this page.
We 3D scanned models wearing the new collection on site, capturing the texture, colour and form as data for Jon Emmony to manipulate in his gaming inspired world.
Balenciaga blurred the lines between the virtual world and reality this season, showcasing a pre-fall 2021 collection via a virtual game entitled 'Afterworld: The Age Of Tomorrow'. It's a concept the visionary remained true to through to the main fall/winter 2021 collection too, which was delivered via a lookbook that sees models superimposed against recognizable tourist attractions — a playful nod to a return to global travel. While its delivery was experimental, the pieces were perennial. Throughout menswear, oversized worn-effect denim, 90s-style tracksuits and worn-in suiting are among the key callouts while faux fur, highly sculptural outerwear and the label's unmistakable monogrammed accessories are the highlights.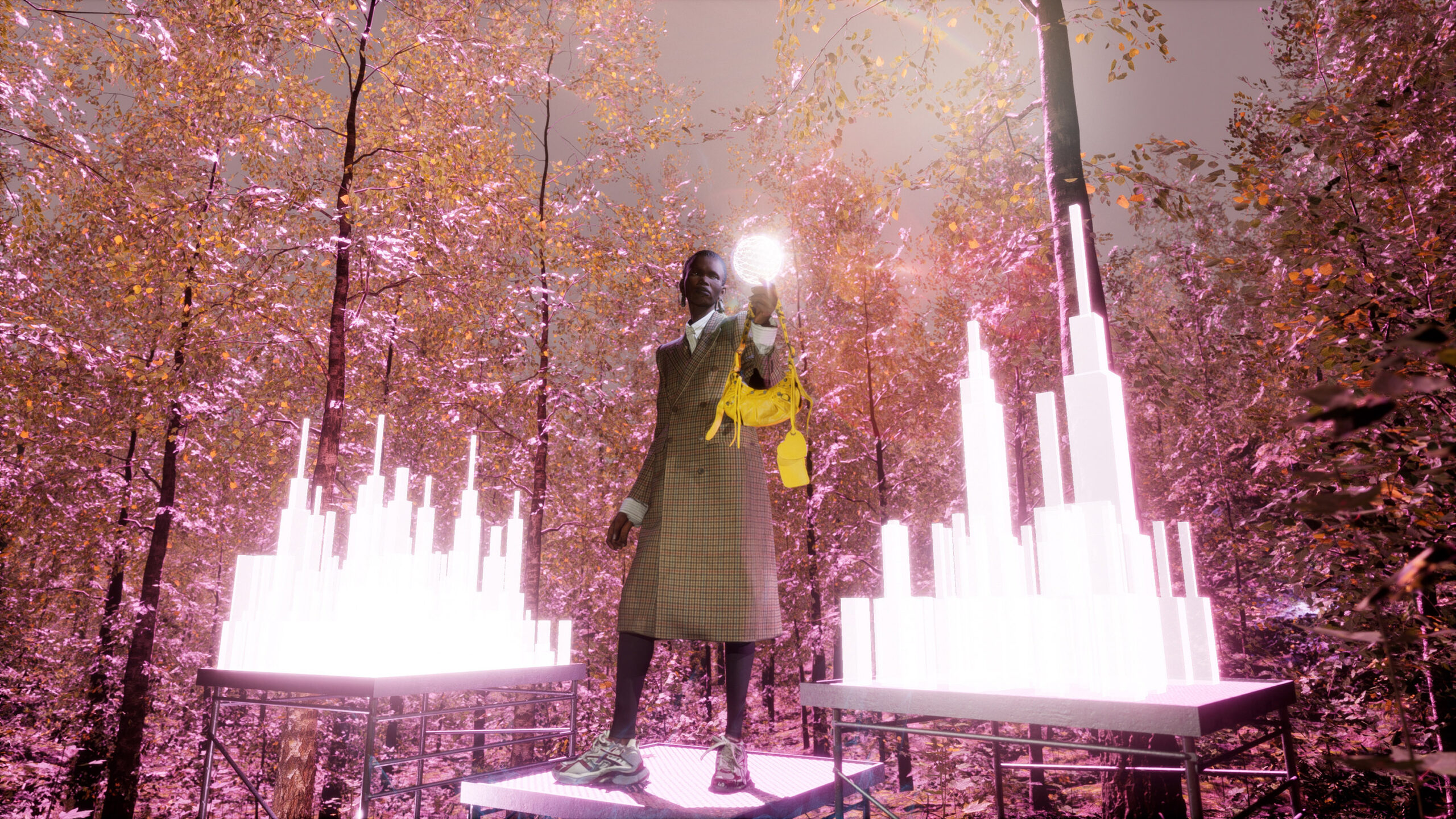 About Balenciaga

A fashion house at the forefront of the industry, Balenciaga is synonymous with creative director Demna Gvasalia's unmistakable, streetwear-infused energy — a vision shaped by minimalist lo-fi proportions, technical fabrics and instant-cult-status accessories. But this modern-icon label is actually 126 years old, founded by haute couturier Cristobal Balenciaga in 1917.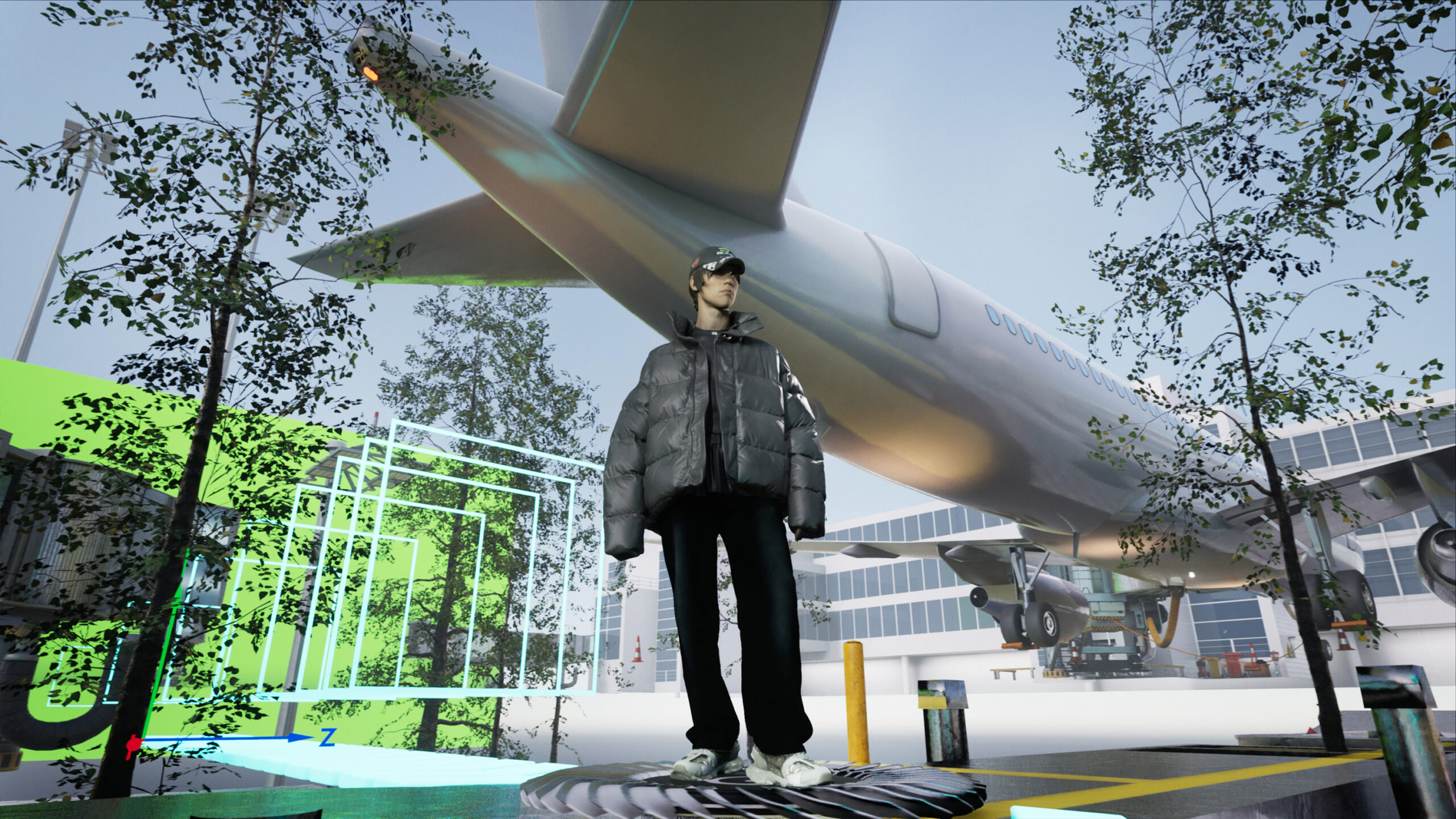 About Jon Emmony

Jon Emmony is an image and film maker. Emmony graduated with a degree in Photography and went on to intern at SHOWstudio before joining the team full time in 2011.
Emmony was SHOWstudio's Digital Art Director from 2011 to 2016.
Although hailing from a photography background, 3D animation has always been a point of interest for Jon Emmony, a London-based digital artist and art director.

Now freelance, Jon has been able to lend his digital skills to a wide mix of projects, working with the likes of Balenciaga, Nowness, Dazed Beauty, Selfridges, Nike, The Horrors and Novembre Magazine. He describes his work as one that involves an infinite amount of possibility.
Full Credits:
Direction: Jon Emmony
ArtDirection: Younji Ku
Talent: Hakima & Jude Fry
3D Scanning: Form Capture & Target3D
Styling: Ai Kamoshita
Hair: Shunsuke Meguro
Makeup: Joey Choy
CGI Assistant: Ryan Vautier
FARFETCH Producer: Clayton Treacher
Special Thanks: Carmel Dione Reeves at Future Rep