3D Scanning for Marketing Campaigns with Tayce & Chet Lo for Absolute Vodka
by
3D Scanning for Marketing Campaigns | Tayce & Chet Lo for Absolute Vodka's 'Born to Mix' campaign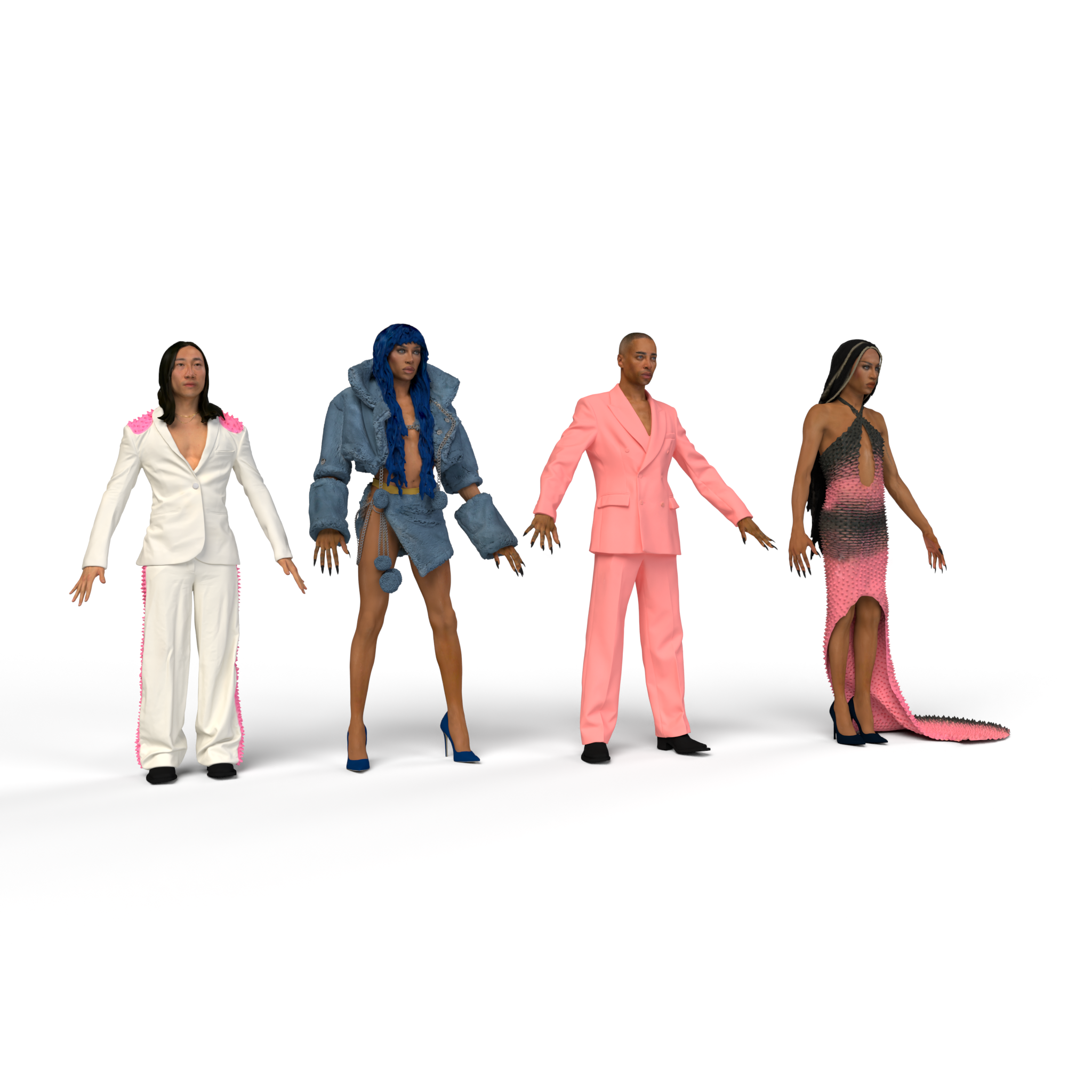 We were hired by Agile Films to utilise our experience in 3D scanning for marketing campaigns and help create Absolut vodka's latest 'Born to Mix' campaign. We 3D scanned RuPaul's Drag Race UK star Tayce with fashion designer Chet Lo in Lo's iconic spiky textured designs, looking amazing digitised in 3D.
This project was inspired by Charlie Robins' earlier work for Yellow Days music video for his song 'The Curse', where we scanned the singer and his double wandered through a digital universe.
Absolut Vodka UK, has partnered with fashion talent, Drag star Tayce and top celebrity designer Chet Lo, to create a translucent 'second-skin' garment, offering a look into the future of fashion where people can freely express their identity. This is the first of Absolut's #BornToMix creative collaborations, celebrating the power of mixing it up – in drinks, in ideas and in life, all to create a better tomorrow.
With the physical fashion being mirrored in a downloadable AR digital filter for Snapchat, fashion's limitless possibilities are celebrated here, making this collaboration one to remember.
Absolut's #BornToMix will see unexpected and diverse creatives work together on a series of projects designed to drive conversation and progress in the UK, bringing different minds together for a greater purpose. The first project, Second Skin Couture aims to challenge existing stereotypes and perceptions of fashion and provide a vision of the future – a world where what you wear isn't tied to the binds of gender, seasonal trends, religious expression, or function.
The hero piece from the collection, a physical garment modelled by non-binary model and breakthrough star of Drag Race UK, Tayce, features Chet Lo's iconic light, translucent and futuristic fabric. In what is his first ever collaboration, Lo's 'second skin dress' aims to blur the line between skin and material, symbolising how the wearer can express their true and purest self on the outside in future fashion.
About Tayce

Tayce is a Welsh drag performer and one of the contestants of RuPaul's Drag Race Season 2, where they gained a legion of fans and came joint second in the competition. Their drag is an extension of their personality. A true beauty queen, their looks embrace the arched brows of the most wicked Disney villains, and come laced with a high-fashion energy that suggests they're ready to walk a Versace show.

After taking the hit show's season two by storm, the star is now looking to leave a mark in the worlds of online and runway fashion with an explosive collaboration.

'Being Tayce is not 1D, it's not 3D, it's 100000D.' – Tayce
About Chet Lo

London-based label Chet Lo blasts the boundaries of knitwear by fusing outlandish textures with seductive silhouettes. Graduating from Central Saint Martins during a global pandemic, Asian-American designer Chet Lo founded his namesake brand in 2020 to restore a sense of excitement for the future with dazzling figure-hugging styles. The label's signature textured knit, a 3-D spiked fabric reminiscent of durian fruit, is designed to form itself onto any shape, emboldening the wearer.
Full Credits:
Director: Charlie Robins
Exec. Producer: Richard South
Producer: Jack Wiles
Post Producer: Alizee Levrino
Production Company: Agile Films
Production Asst: Brad Smith
1ST AD: Chris Malin
Runner: Ameerah Ayyad
Runner: Kleo Andreou
DOP: Chris Clarke
1ST AC: Samuel Harding
2ND AC: Catherine Hulme
Grip: Alex Tate
DIT: Elliot Chyi
Camer Rig Technician: Scot Sherrard @courtyardlondon
Gaffer: Jonny Boomer Electrician: Charlie Lodge Electrician: Craig Gambell
Sound: Michael Chubb
Production Designer: Stefania Lucchesi Art Assistant: Matty Mancey
Tayce Hair Stylist: Ross Kwan
Post Production: Agile Studio
Post Producer: Alizee Levrino
VFX Supervisers: David Horsburgh/Chris Dunleavy Editor: Jean-Philippe Blunt
Animator: En Williams
Animator: James Sayer
Animator: Andrius Vizbarus
Animator: Thomas Dunkeavy
Animator: Chris Jones
Animator: Eduardo Oliveira
Animator: Phillip Sandeman
VFX Edit Assist: Micah MCleod
3D Scans: Form /Capture
Colour Producer: Bruce Langfield Colourist: Richard Fearon
Sound Design: James Wilson @ BUILDERS TEA
Agency: M&C Saatchi
Creative: Joseph Keirs
Creative: Joseph Tedder
Creative Services Manager: Philippa Roffey
Senior Agency Producer: Dale Chapman
Senior Account Director: Anna Glover
ACCOUNT DIRECTOR: EMMA SWEET
Senior Account Executive: Amreen Bains
Special Thanks: Cameraworks
Courtyard London
Edwards Films
Sugar Studios
Glo Film Lighting
Deep 3D Studo @deep3dstudio